For work trucks, diesel engines have been a mainstay since they were first introduced to the public in the late 1980s. Since then, diesel engines may be found in a wide range of vehicles, from large trucks to little automobiles like the Volkswagen Jetta and Chevrolet Cruze. You may save a lot of money and save a lot of headaches if you buy a used automobile from a dealer in your neighborhood. As a result, we've selected a few of the diesel trucks with the most impressive powertrains. In spite of the fact that the 2010-2013 Ram 2500 Heavy Duty has a Cummins I-6 diesel engine, there is much discussion concerning the advantages of Powerstroke and Duramax designs.
What's the point of Diesel?
For commercial trucks, diesel engines are the only option. In contrast to typical internal combustion engines, diesel engines use exceptionally high compression ratios to ignite their fuel, which makes diesel fuel different from gasoline. In comparison to gasoline equivalents of the same size, this significantly improves fuel economy. Diesel engines provide double the torque of gasoline engines while operating at a lower rpm, making them excellent for towing big loads.
These engines' long life and efficiency can be attributed in part to their ability to operate efficiently even at low engine speeds. The intensive use of gasoline engines causes early wear and breakage of components because of the high speed and significant internal stresses. When it comes to routine maintenance, a diesel engine is more time-consuming and expensive than a gasoline engine, but it's not uncommon to see a decent diesel vehicle go well over 400,000 miles.   
As a result, diesel truck owners tend to be devoted to their brands, which is understandable. In every conversation regarding used trucks with the best diesel engines, these models are mentioned. Whether you value dependability, affordability, economy, sheer power, or a sense of history and nostalgia, these secondhand trucks with their powerful diesel engines may deliver on all of your needs.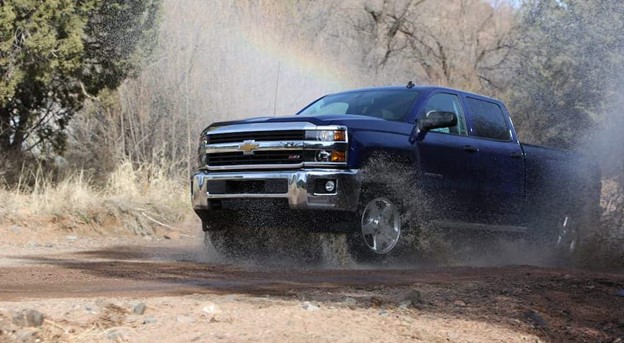 Ram 2500 Heavy-Duty 6.7L Cummins Engine 2010-2013
The 6.7L I-6 Cummins engine was launched in 2007 on the Ram 2500 Heavy Duty, and vehicles manufactured from 2010-2013 are still competitive with current trucks today. When discussing the greatest used diesel vehicles, our consensus is that the best one is ten years old (and also the newest model on the list).
There are two gearbox options for this turbodiesel: a manual 6-speed and an automatic 6-speed. This truck can carry a 5,000 lb payload and a 17,500 lb trailer with the aid of a standard exhaust brake.
While brand new engines – notably the latest version of the 6.7L Cummins – are stronger and can have better-carrying capacity, the 2010-2013 Ram HD still competes with the best of them, which we find amazing for a model this old. As an extra plus, the system's simplicity makes it reasonably straightforward to tweak yourself to achieve even better performance results.
Even before that, Ram has positioned itself as a premium brand since 2010. This is the only used diesel truck on this list that has as much interior technology and comforts as the Cummins engine, which is the oldest model on the list.
2006-2007 Duramax LBZ – Chevy Silverado / GMC Sierra 2500HD and 3500HD
The '06-07 Silverado/Sierra Heavy Duty is frequently included in discussions of the greatest diesel trucks. As one of the best used trucks with the best diesel engines, the 6.6L Duramax LBZ is considered one of the best in the Duramax line-up from 2001 to the present. Automatic and manual transmissions, as well as the Bosch common-rail injection system, combine to provide one of the most dependable powertrains on the market today.
Duramax LBZ was designed to fit into a specific time period where the Allison transmission was new, emissions systems were not required, and neither Cummins nor Power Strike could deliver 360 hp or 670 lb-ft of torque. GM had figured out how to fix the flaws in prior diesel engines and created one that still performs admirably to this day. Ride quality is outstanding for the era owing to an independent front suspension, a plus that helps justify the relatively high price. These trucks currently command the open market. The LBZ and '06-'07 Heavy Duty trucks stand out as superstars in GM's tradition of brilliance.
7.3L Power Stroke 2000 Ford F-250/F-350 Super Duty
The 7.3L Power Stroke diesel engine used in late 1999 and early 2000 Ford F-250 and F-350 Super Duty vehicles epitomizes the phrase "Ford Tough." It doesn't compare to a new engine's 235 horsepower and 500 pound-feet of torque, but it's still powerful enough to do almost any chore you throw at it. These trucks became acceptable commuter cars thanks to their enhanced ride quality and a bevy of era-appropriate amenities.
Those who claim that Ford's 7.3-liter Power Stroke diesel engine was the finest pickup truck diesel engine ever built have a good argument. It'd be the last truck standing in a head-to-head matchup versus a modern truck since the block and body is built to withstand all kinds of punishment. When properly cared for, these vehicles may easily reach 500,000 miles and still provide exceptional value to their owners 20 years later. It's like "purchase it once, use it forever."
Conclusion
As long as all the major diesel engine manufacturers have passionate fan bases and legitimately competitive contenders with substantial upsides, declaring any one diesel engine to be "the greatest" is risky. When it comes to secondhand pickup trucks, the options for engines and vehicle combinations are nearly endless, even if you restrict your search to just the engines. It's worth noting that smaller contemporary engines are changing the game today, and the famous 5.9L Cummins in the 1991-93 Dodge Ram deserves eternal appreciation as it continues to slap mud on the tires. However, none of these diesel engines are genuinely the greatest in the industry.
While towing your spaceship on a trailer, Ford's 7.3L Power Stroke V8 in the 1999-2000 Ford F-250 could still get you to the moon and back. No discussion of diesel engines would be complete without mentioning the 6.6L Duramax LBZ engine seen in GM's heavy-duty vehicles from 2006 to 2007, an engine that is as dependable and adaptable as it is customizable. The 6.7L Cummins I-6 engine in the 2010-2013 Dodge Ram Heavy Duty vehicles is our favorite, with power and hauling capabilities that rival brand-new heavy-duty trucks at a fraction of the price.
Some of the best-used used trucks with the best diesel engines on the market are well over five years old in the regular-use class of vehicles. As a result of the fact that diesel trucks aren't all about the latest luxuries and innovations; they're more concerned with long-term durability. A legacy and an engine that never dies are at the heart of their message.